Minecraft 1.4.2 Pre-release Download
4,670
views ❘
October 25, 2012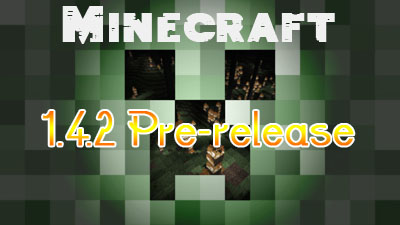 Busy day on the Mojang blog indeed! Don't forget to check out the other posts for info on the bug tracker, Minecon and our Pretty Scary Screenshot competition!
However, I need to inform you that we've uploaded a 1.4.2 version of Minecraft. This version will be released in the launcher tomorrow morning (Central European time zone). What we fixed was,
Fixed a severe memory leak in the server. Big thanks to Rickard Åberg and John Marzano for helping me locate this problem.
Corrected rendering of fences and cobblestone walls
Again, for clarity:
Release date: Thursday October 25
Installation:
Close Minecraft.
Go to Minecraft.jar. You can find this in Windows at %appdata%/.minecraft/bin.
Copy your Minecraft.jar file and back it up somewhere else.
Move the newly downloaded Minecraft.jar into the /.minecraft/bin folder, replacing the old version.
Open up Minecraft and have fun!
I would recommend backing up your old Minecraft.jar somewhere so that you can keep all of your current mods. You can do this by just copying Minecraft.jar and pasting it into another folder.
* The client now comes with both the client-side and the server-side JAR files. The file called "minecraft.jar" should be in your ".minecraft/bin" folder as usual, and the "minecraft_server.jar" file should be in a folder called ".minecraft/server".

Client
Server
EXE: https://assets.minecraft.net/1_4_2/Minecraft_Server.exe

JAR: https://assets.minecraft.net/1_4_2/minecraft_server.jar
Tags: