Effect Overlay Mod
9,000
views ❘
September 11, 2016
Effect Overlay Mod. Ever played a first/third person shooter? In most shooters, you will realise as you take damage your screen will redden, until you heal up again! This mod adds this feature to Minecraft! The edges of the screen will also change colour when hit with any of the negative potion effects, even ones you cannot get a potion for currently (eat some rotten flesh!), with the exception of nausea and Blindness, because, you know, they mess your screen up enough already.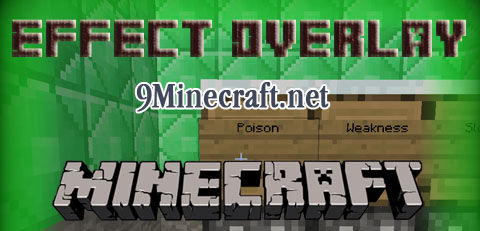 Screenshots:
Look carefully at this one, the edges are darker.
The effects will work in F5 too!
Pressing F1 will hide the Gui effect.
Installation:
1. Download The Effect Screen Mod
2. Extract contents of this file into minecraft.jar using WinRAR, 7Zip, or similar.
3. Delete the META-INF folder inside you minecraft.jar
4. Launch minecraft.
5. Play like a boss in single player or multi player!
Download Links for Effect Overlay Mod:
Tags: