Recall Mod
6,709
views ❘
September 11, 2016
Recall Mod is a mod originally made by zenithselenium back in Alpha 1.2.6 (Check the original thread below the title), yeah, it's old. It was the first mod I ever used and I find it to be awesome, so I decided to take the plunge and update it to the current day minecraft, my version of Recall is much more simplified than zenith's and uses a lot less ID's and sprite indices, it also supports all 16 colors of the spectrum.

Changes from zenith's version:
Support for all 16 colors of the spectrum;
Overlay based, meaning for all the 48 items, it only uses 3 sprite indices;
Item Metadata based, 3 item ID's only;
Improved recipes to match the new minecraft items since then.
A new scroll called the return scroll, that teleports you to the place where you last used the recall scroll of it's color.
SFX and GFX.
Shared Warps (Available in the config) If this is enabled, the warp points for the players are shared between the players, great for small lan games and the like.
Oldschool mode (Available in the config) that changes the recipes to be like they were back in zenith's version.
Recipes (Replace the lapis with any color dye):
The Bindstone, use it on a block and set the recall point for that color there.
The Recall Scroll, use it and teleport to the recall point of it's color.
The Return Scroll, when used teleports you to the last place you used a recall scroll of it's color.
Oldschool Mode recipes:
(Return Scroll can't be crafted in oldschool mode)
Screenshot: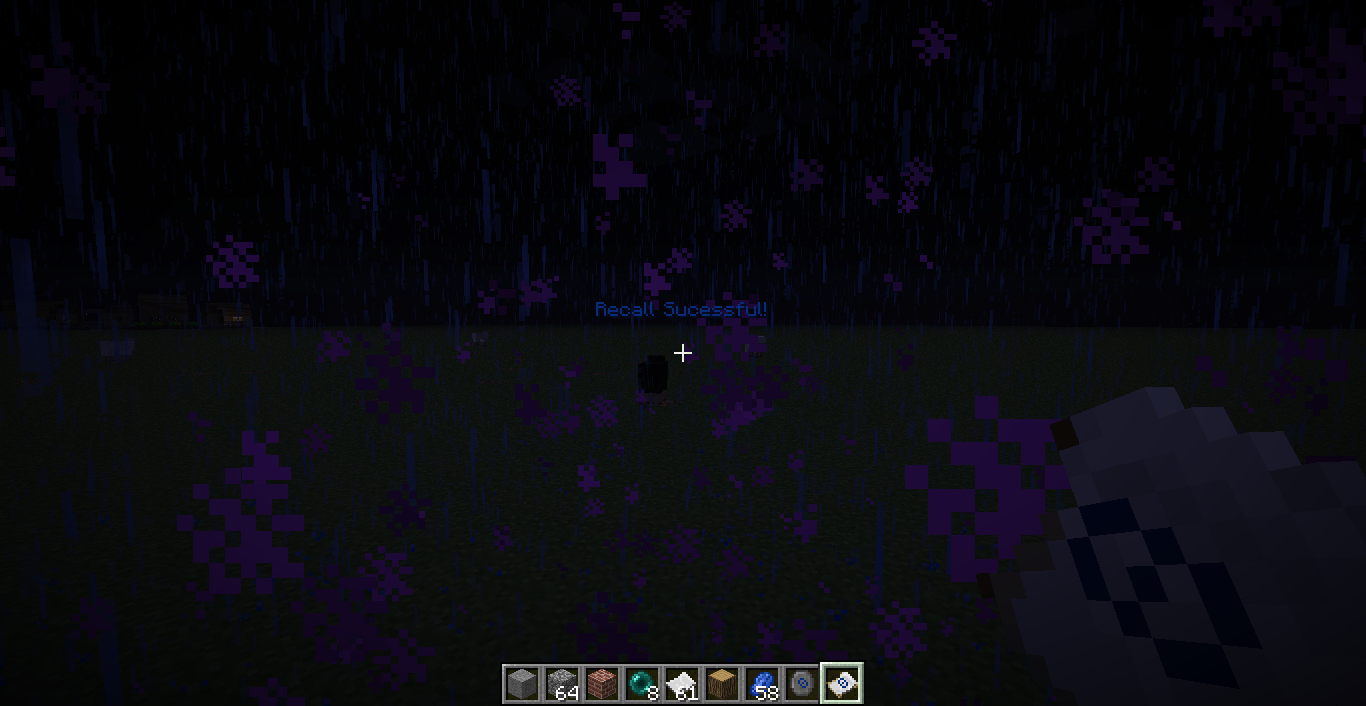 The Configuration file for this mod is located in /.minecraft/vazkii/config/recall.cfg, it will only be there after you installed the mod(and Forge + Vazcore) and ran the game at least once.
Requirement:
Installation:
Installing Forge:
Open your Minecraft launcher.
Open the "Options" menu near the "login" button
Use the link in the Options menu to open the .minecraft directory
Navigate to the bin folder.
Open minecraft.jar and the Forge version you downloaded with appropriate archive software. (i.e WinRAR, 7-Zip)
Drag all contents from Forge into the minecraft.jar
Delete the META-INF folder from the minecraft.jar
Close both minecraft.jar and Forge download.
Go back to the .minecraft directory.
Installing VazCore:
While inside the .minecraft directory, create a new folder titled "mods", assuming there isn't one already.
Drag and drop the entire VazCore .zip file into the mods folder. (Do not extract the contents of the .zip)
Installing Recall Mod:

Drag and drop Recall Mod.zip file into the mods folder. (Do not extract the contents of the .zip
Download Links for Recall Mod:
Tags: